First of all this is a work in progress so please bear with me........
OK, every other day someone is asking about exhaust and it gets kind of annoying. Would everyone please submit information about exhaust components, pictures of installs, sound clips, other relavent threads just anything at all here. I will update the first post with all useful information and maybe we can get it as a sticky.
Thanks......
-------------------------------------------------------------------------------------
U-bend delete
The factory installed a bend in the downpipe that looks like a "U" to protect the Oxygen sensor. This is the most restrictive point in the stock exhaust from the factory. If you do nothing else you need to remove this and replace it with straight pipe. You can reinstall the O2 sensor or get a spoof or have the code deleted. On some installations a catalyst efficiency code will set if the O2 sensor is not placed the correct distance from the catalyst media.
Stock u-bend cut off cat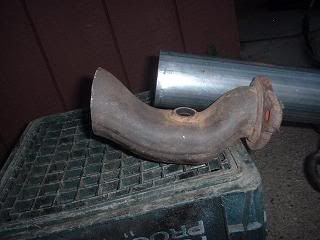 U-bend replaced with straight pipe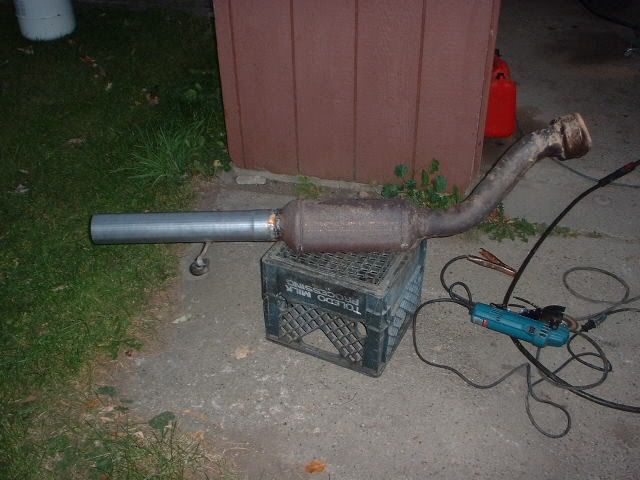 Correct distance for the rear O2 sensor is 7" from the center of the sensor the the edge of the catalyst media (note this is NOT just from the end of the cat, the measurment is from the honeycomb material inside the cat to the center of the O2 sensor)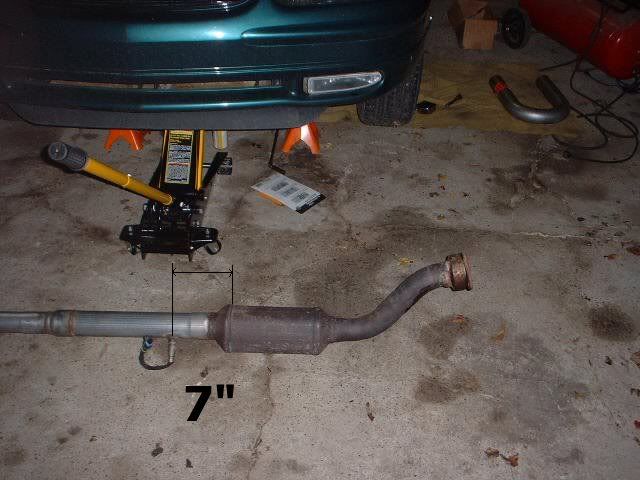 3" Downpipes
The DP is probably the 2nd most restrictive part of the exhaust and can net a few mpg and reduce boost stacking by it's replacement with a high flow piece.
A few vendors make 3" downpipes in many options (bolt in w/ or w/o cats, weld in shorty pipes, stainless, mild steel, interlocking flex, etc....) Most DP's from vendors are excellent quality and will perform well. Most versions use a flange and gasket like the stock setup and provide a good seal and trouble free service. A DP manufactured by R/T uses a donut gasket and spring bolts to retain is and keep a seal and allow for flex. This design is prone to leaking and gaskets wearing out as they flex. Usually I do not recommend an R/T pipe as most users are unhappy with the constant maint required to keep it sealed.
Below Stock DP compared to a 3" DP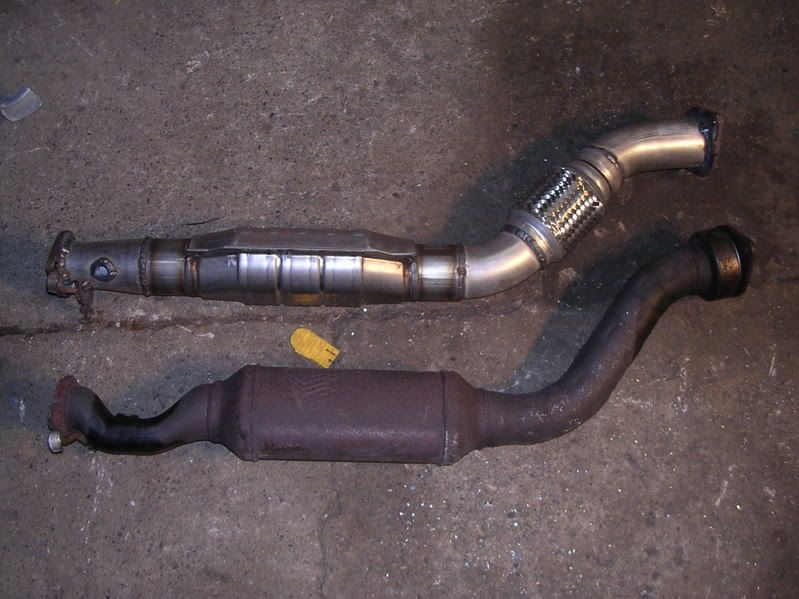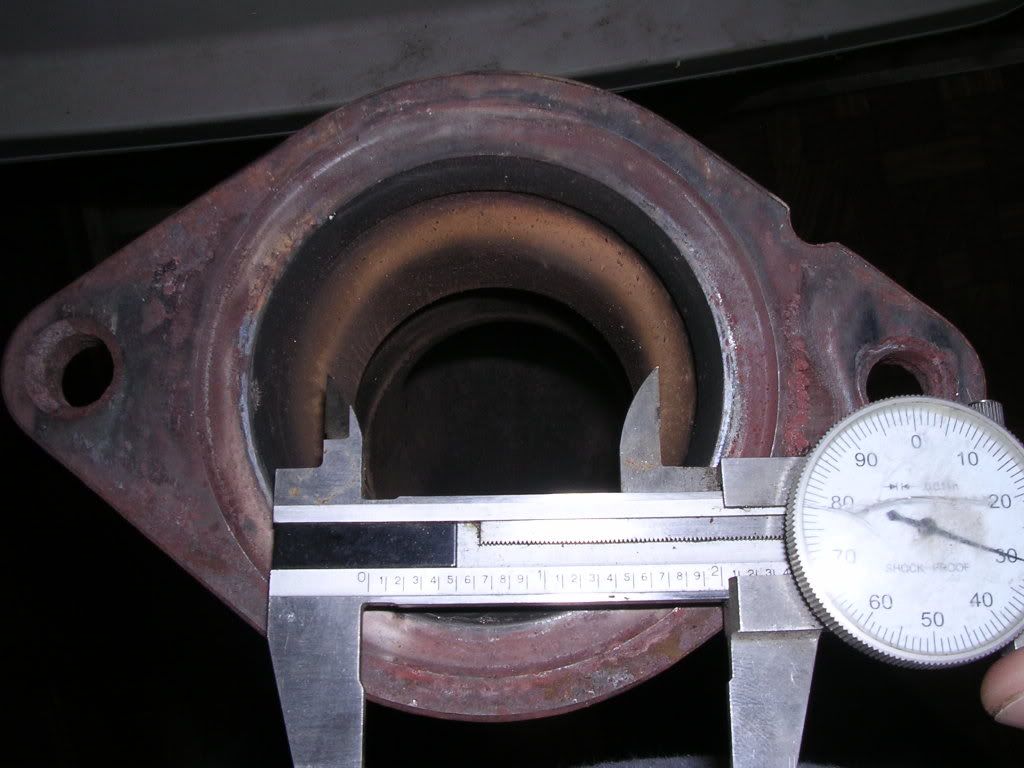 Catalytic converters
While we are on the subject of Downpipes lets discuss the catalytic converter. It's job is to transform harmful exhaust gases into not so harmful chemicals (to make it really simple). The stock catalytic converter is not as restrictive as most people have been led to believe. Here is a picture of a stock cat as compared to a "High flow" cat. Notice the surface area and honeycomb material are nearly identical. The "high flow" of the performance converter is due to it's slighty more refined design. Gains from a "high flow" converter are minimal at best. You are best to either leave the stock converter on or if the stock converter goes bad it is a good idea to upgrade to a high flow. Noise out the tail pipe and in the cabin may increase slightly with the use of a high flow cat. The amount of noise increase is pretty much dependent on the person and their level of tolerance. Removal of the converter is "illegal" in most locals although many have done it. All the un-catted vehicles I have been around gain alot of rasp in the exhaust (This does highly depend on other exhaust components) This is just my experience, others have claimed no increase in noise but usually these systems involve stock mufflers or other combinations of components to reduce noise.
Just for reference at the time of writing this I have 127k miles on my stock cat and have run 12.34 @ 110 mph in the 1/4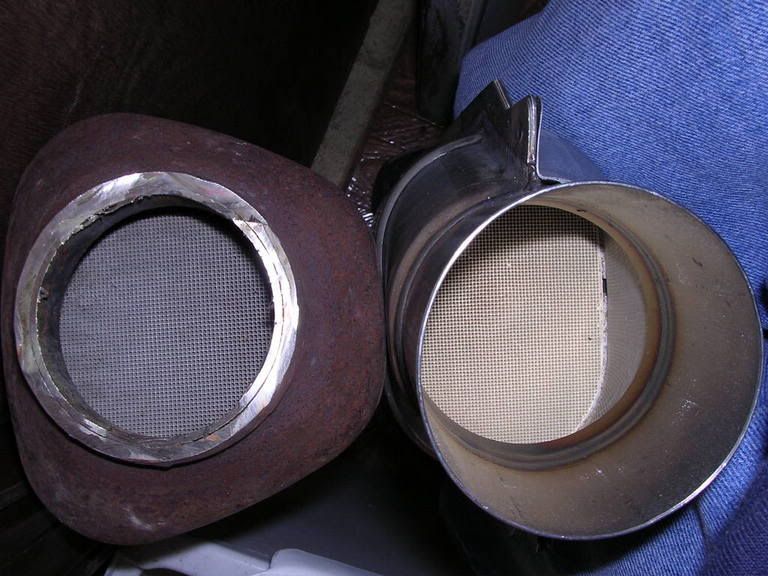 Resonators
Not the worst thing int he exhaust but they have a tendency to rot out at the seem and creat an annoying exhaust leak. Easy to replace with a straight pipe or my recommendation is a magnaflow 4" round straight through muffler in it's place.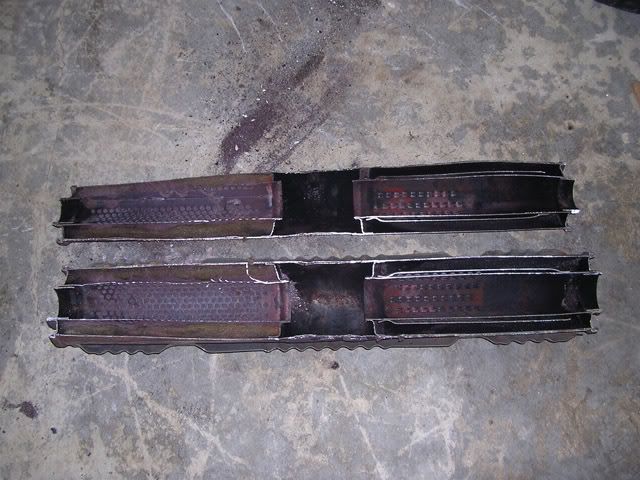 Exhaust Options
-----------------------------------------------------------------------------------
Single outlet
Stock 97.5-98 GS exhaust
These years had the god aweful side entrance mufflers. If you have this year you need to do something about the muffler and rear pipe after the suspension as soon as you can after taking care of the u-bend and DP. These years had an absolutely horrible design for mufflers
If you are skilled with a welder you can make an full mandrel bent exhaust using some tubing and prebent u-bends ordered from JEGs. It just takes some time and patience to get everything lined up and fitting correctly. But it can be done as I have made several systems now using this method (some came out better than others, but they work
)
Below....2.5" home made system using prebent pipe cut and welded to fit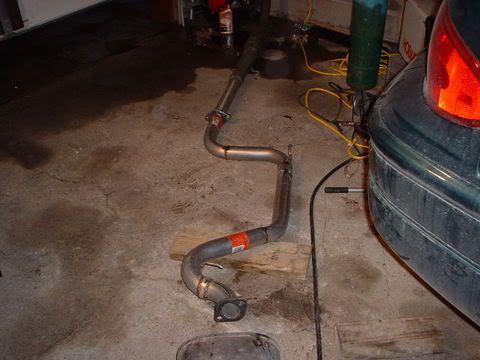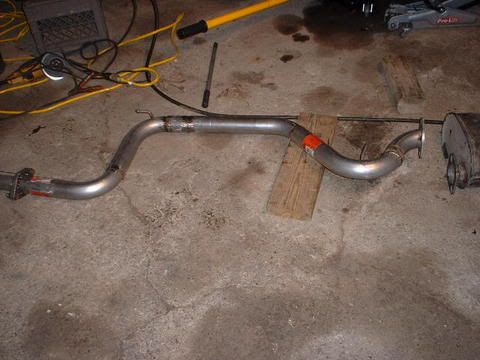 Below, my first attempt at a 3" system using pre-bent pipe. The 3" system has a Dynomax 3" IN/OUT Super turbo muffler and a Magnaflow 3" IN/OUT 6" diameter straight through muffler as a resonator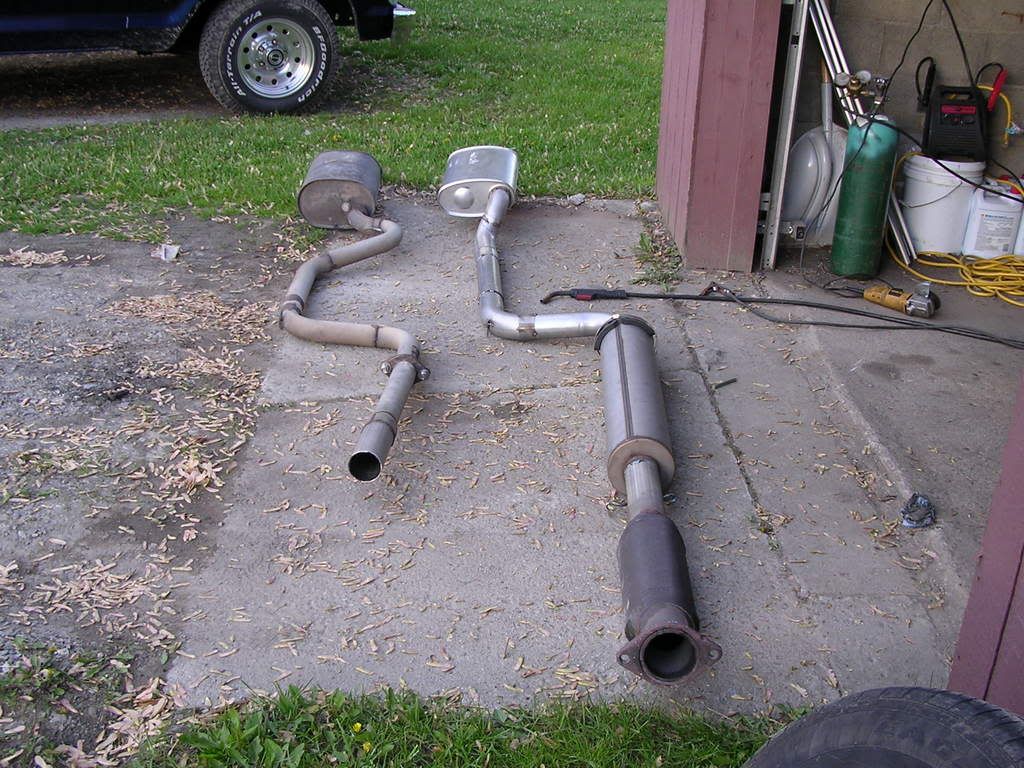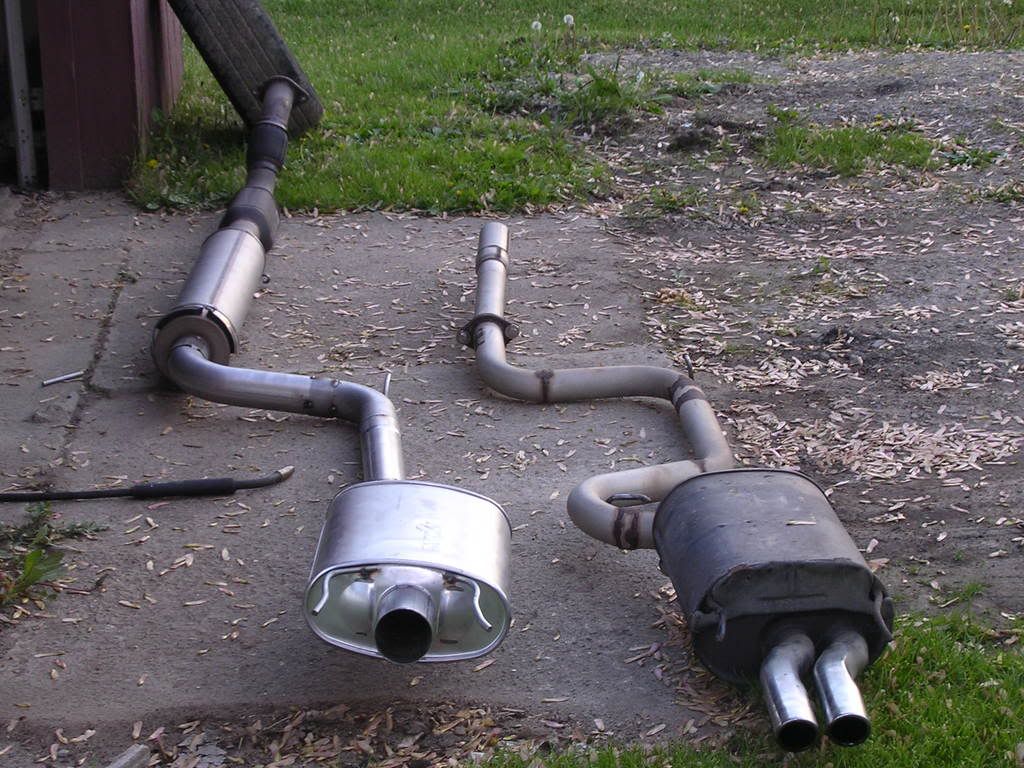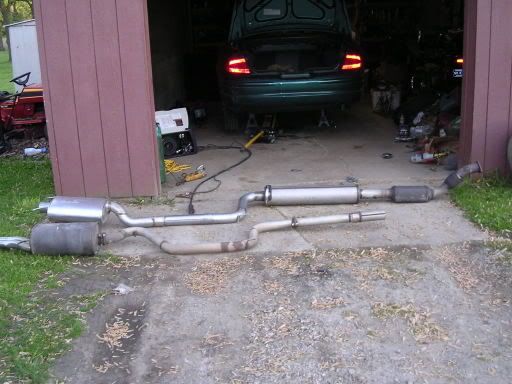 You will notice this system goes straight under the suspension instead of around it. This is usually fine for non-lowered cars and eliminates a bend but can become an issue if not done correctly and causes ground clearance issues or rubs on the underbody/suspension.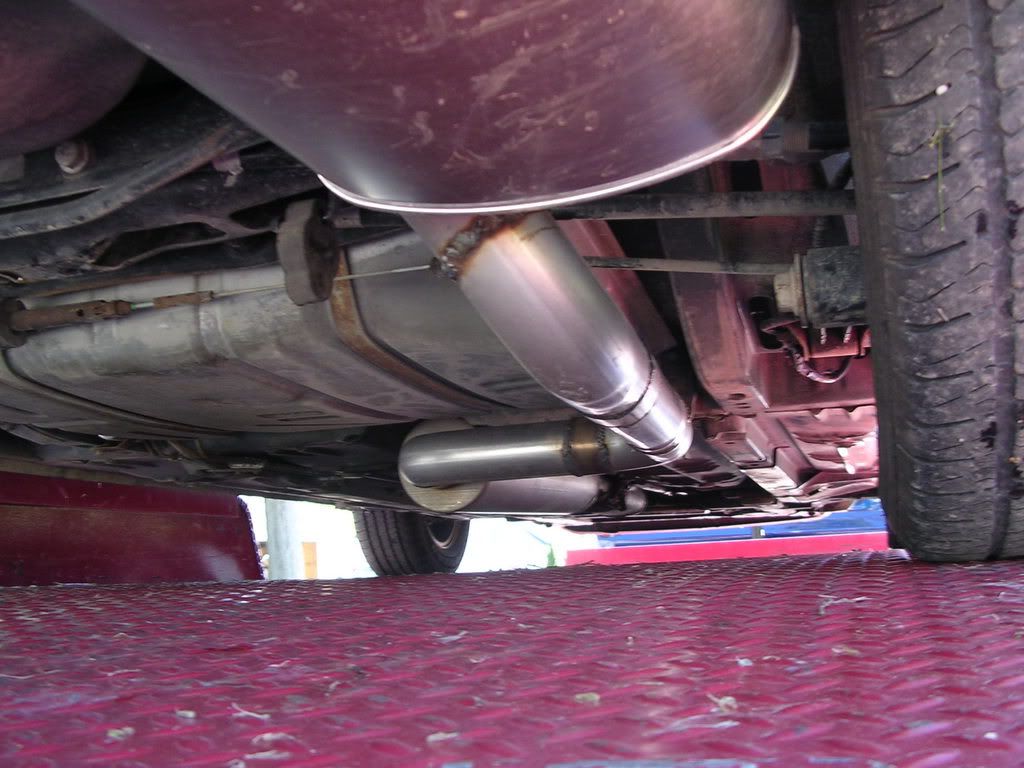 You will also notice the loss of ground clearance with the 6" round resonator. Although this resonator does quiet things down tremendously, it is large and a very tight fit. Once again fitment on install is critical to prevent and rubbing, banging, or clunking. I have had times were my resonator will hit speed bumps and I have a non lowered car.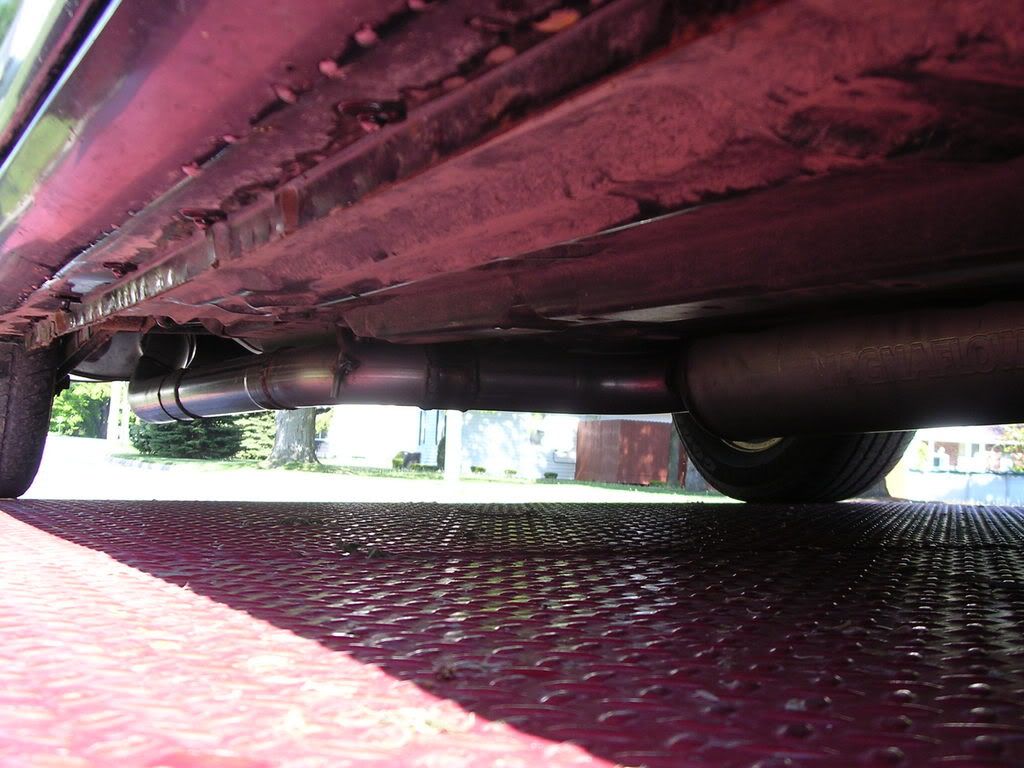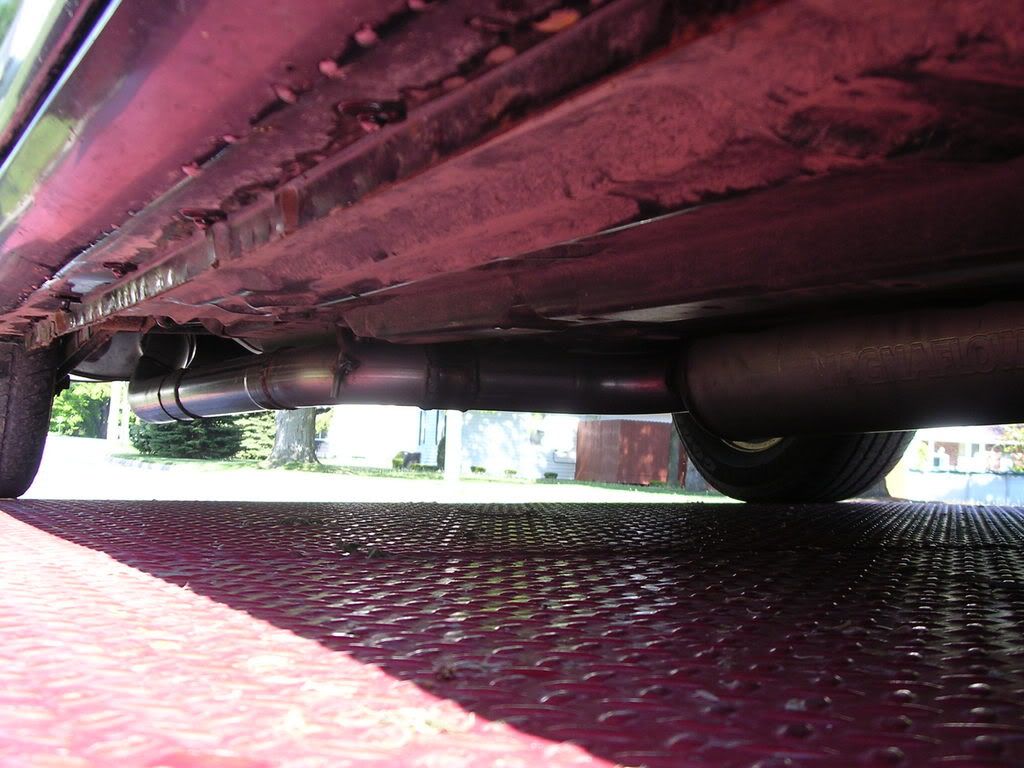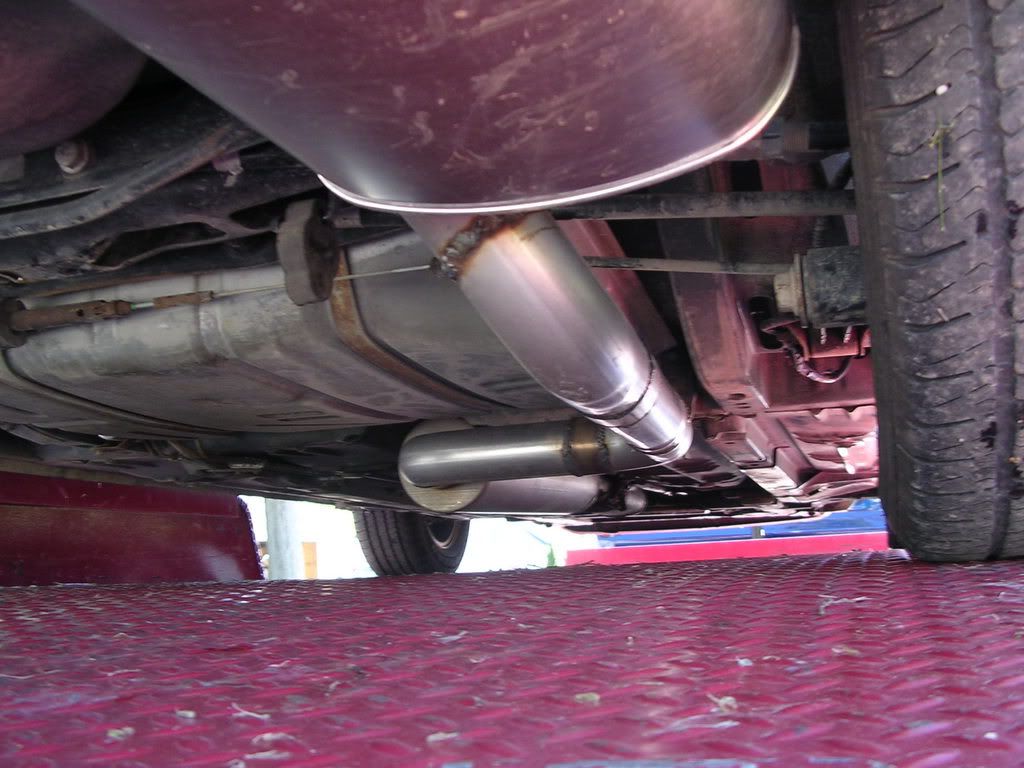 SLP used to have a single outlet exhaust. It was a tad bit loud for most so the addition of a resonator helped ALOT with drone issues. Here you will see on the left a modified SLP 2.5" system and on the right my first 3" setup again.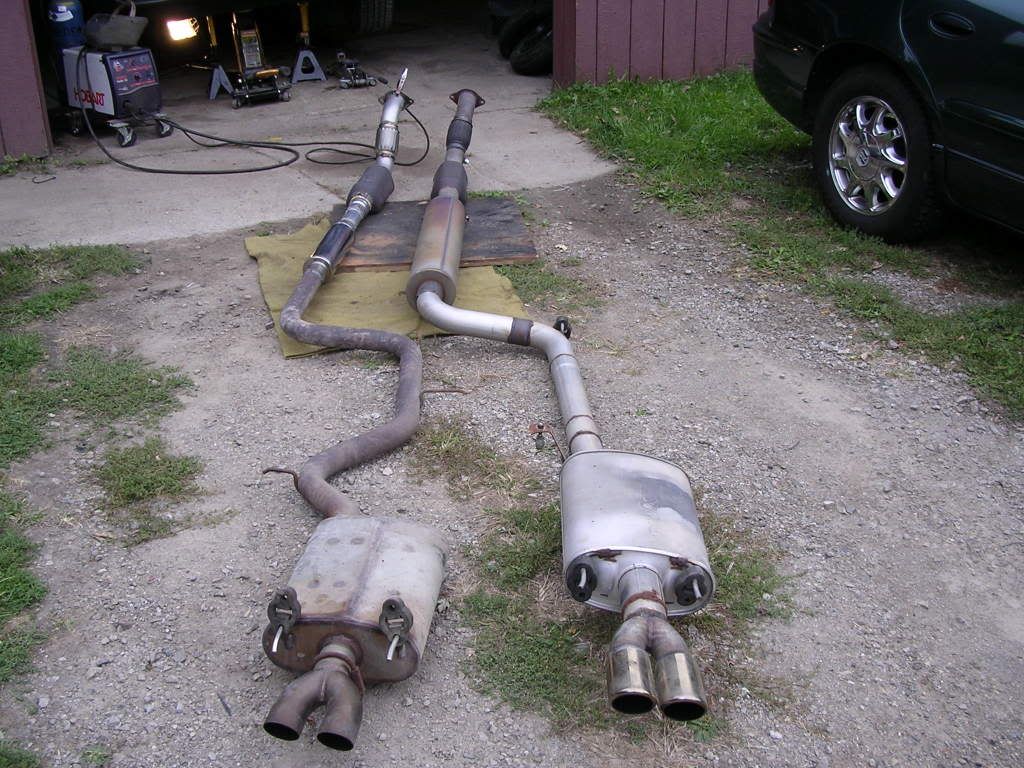 Hogan 3" cat back pipe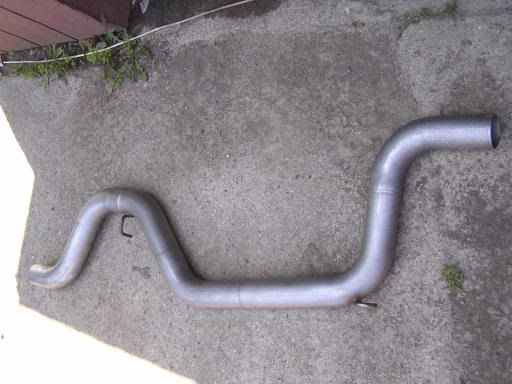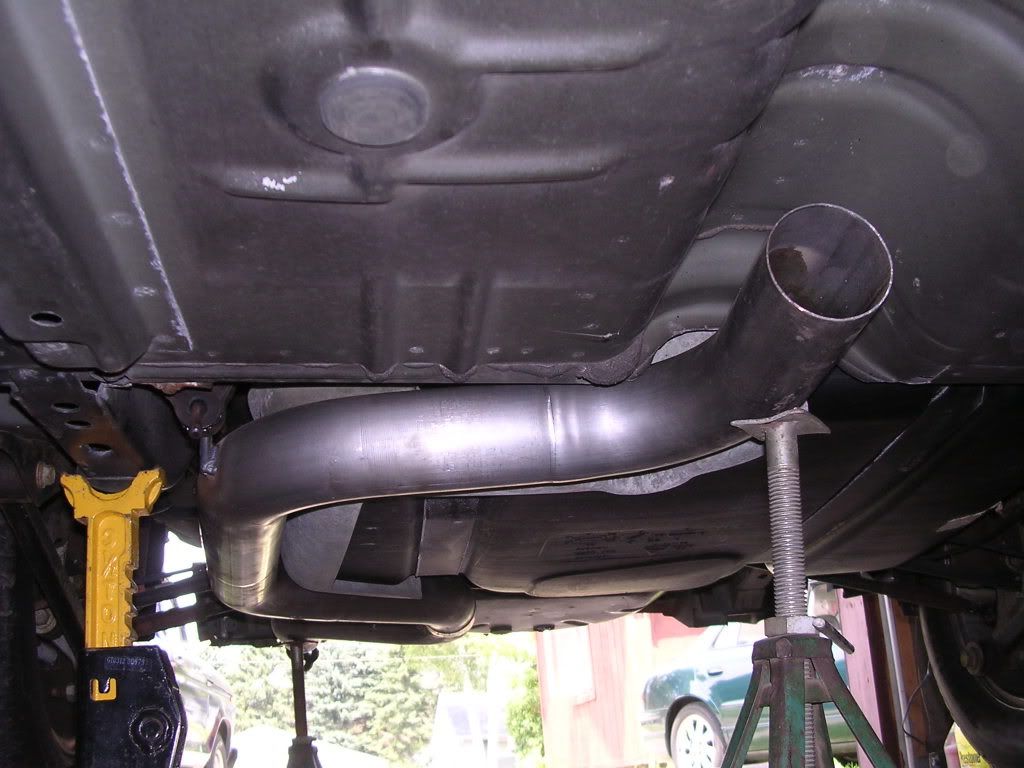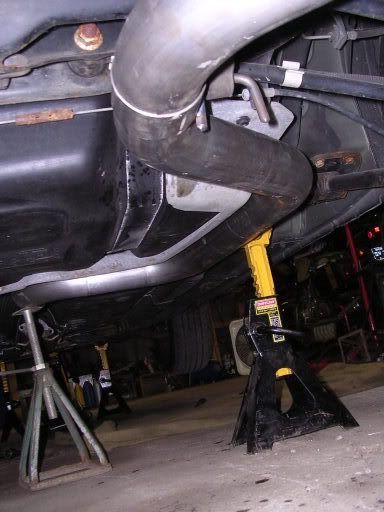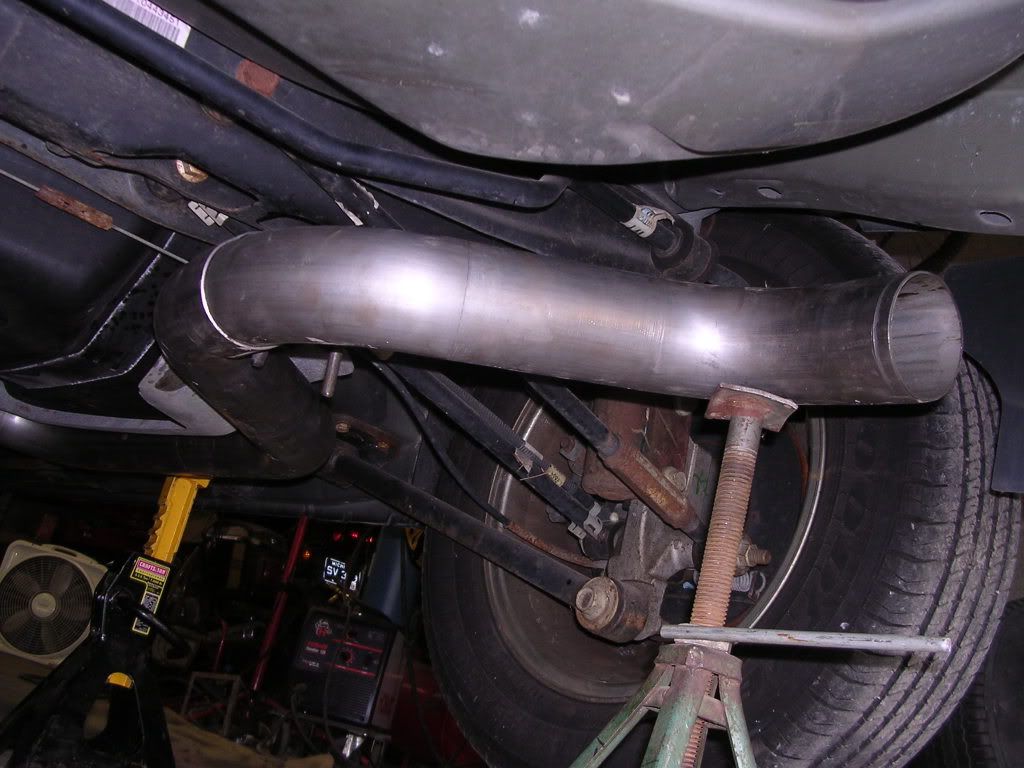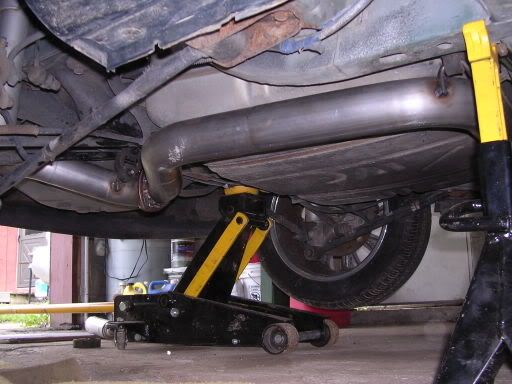 Hogan 3" pipe next to stock GS pipe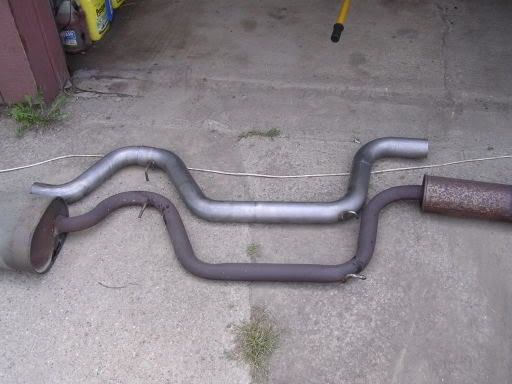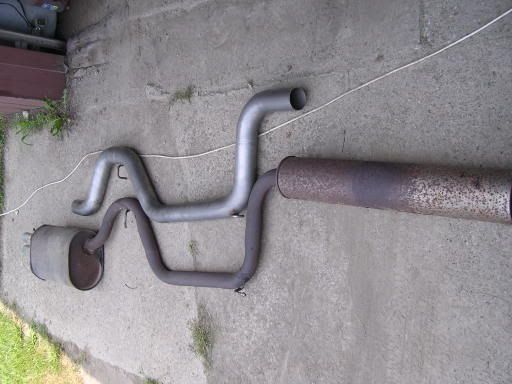 Hogan 3" pipe with Magnaflow stainless mufflers and a Fast Toy tip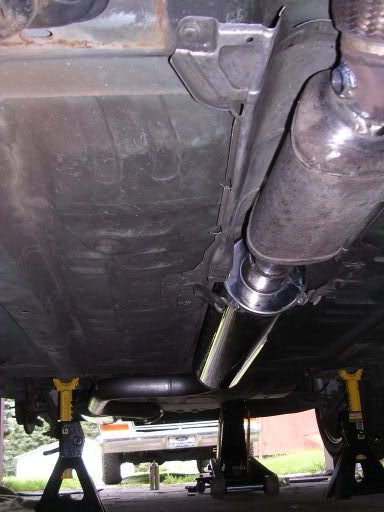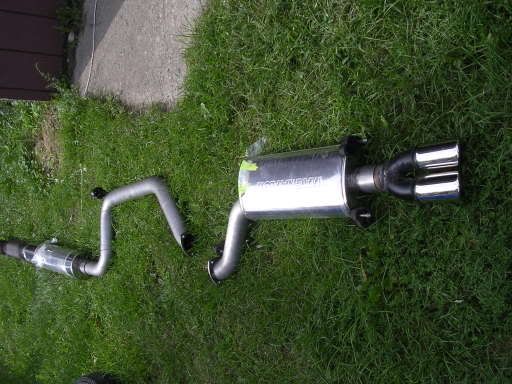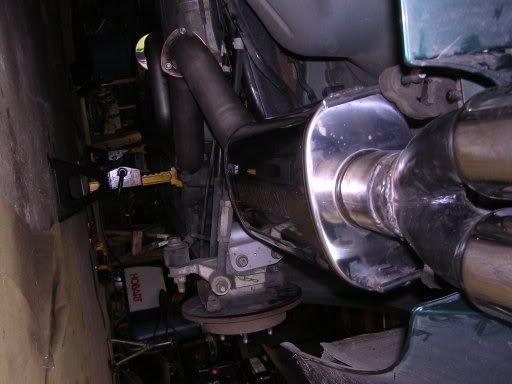 SOUND CLIP
Here's a clip of mine with Pacesetters, then full 3" exhaust with no cat or resonator and a gutted muffler. Yes it is this loud. Cutout is closed.


Hi All, I just recently completed my exhaust, It is now 2.5" from the cat back, completely Stainless with a Magnaflow straight through 5x8 oval muffler measuring 18" long. and a polished tip. I'll post pics later, but here is a sound clip. A quick spin reveals that it is loud upon acceleration, but quiets down considerably on cruising. This was around town, so the real test will be once I get it on the highway at 65/70/75mph.

Let me know what you think.
http://media.putfile.com/Magnaflow-exh

it takes a while to load.
Lemme know what you think.

3" DP
High flow cat
2.5" supercharger pulley
stock mufflers

There is some background traffic and wind. I'll try and get a better vid over the weekend.

My exhaust
---------------
Dual outlet
Thanks BlackGS for the info
Dual exhaust option - GM Performance Parts (GMPP) W-body Exhaust Package GM PART # 12498617



This kit is completely bolt-on and requires no welding. For a Regal, you will have to cut the rear bumper plastic on both sides to fit the tips. Custom plastic inserts are available on eBay to finish the bumper cuts (search for Regal inserts).

The kit is available from GMPP dealers including gmpartsdirect.com, and paceperformance.com.

To properly install the kit, a driver's side bracket for hanging the rear muffler is required. The GM part number is 10301946. This bracket can be purchased at any GM dealer, and usually costs less than $10.

For more information, see this thread



Sound clip (please ignore the clicking noises - the mic was too close!)




so what i need is the GM Performance Parts (GMPP) W-body Exhaust Package the The GM bracket and i dont have a dual exhaust so do i need to buy this too dual exhaust conversion kit 12498653?


NO, you DON'T need part number 12498653! That is a different bracket for a Monte Carlo or something. GM Parts Direct lists it as a "kit", but it is just a bracket. Look at the thread link in my previous post:
http://www.regalgs.o... ... sc&start=0
Go to page 2. There are pics of both brackets.



------------------------------------------------------------------------------------
Tips
Tips will also have an affect on the sound of your exhaust
Fast Toys tips
Ractive T820:
***RegalWizzard's car***
These are chrome over polished stainless with 3" staggered exits
Link to tips on Ebay